Severed Hand, Labelas Tower
(AR5101, AR5502, AR5104, AR5102, AR5103)

You can see the first level (AR5101) of this tower by taking the western exit from the main area. Upon entry, you'll see Larrel's Sending. He congratulates himself for blowing up that level, then disappears. To access the remainder of the tower, you'll need to go back to level three of Sheverash Tower and take the passage (not the stairs) leading west.

Access the outside bridge (AR5502) by taking the passage west from level three of Sheverash Tower. Just keep walking west, killing the shadowed cleric, mage, archers and swordsmen along the way. Once across, you will be on level two (AR5104). From there, proceed to levels three (AR5102) and four (AR5103), where you will meet Larrel and Gelarith.

Monsters: Custhanatos, Gelarith, Larrel, Shadowed Elven Archer, Shadowed Elven Cleric, Shadowed Elven Swordsman, Shadowed Elven Wizard.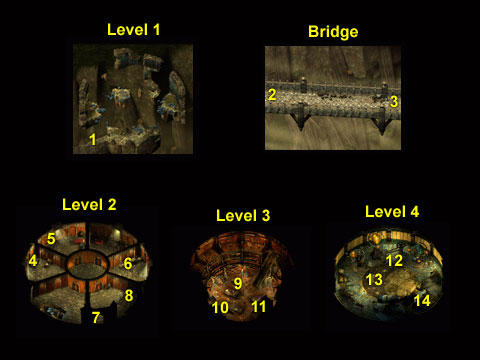 Areas of Interest
Walkthrough Index