Dragon's Eye, Level Four
(AR4004)

The action is very intense in this area. You will fight lizard men, trolls, yuan-ti, and Eldathyn priests. The sheer number of monsters, coupled with the difficulty of planning a precise attack, makes this one of the more difficult areas of the game. There are several ways to trigger the battle sequence; we will discuss them in our detail of Albion, "Exalted Keeper" of the temple, who is waiting for you a few steps northeast from the entrance. If you wish to have options when exploring this area, there are two things you must remember. First, do not allow a paladin to speak with Albion. Paladins can sense evil, and will identify Albion as a fraud right away, and then the battle is on. Second, do not force or pick any of the doors, as doing so will trigger the battle. There is one exception to this rule, which we will discuss in our details of Albion and Geelo the Librarian.

Monsters: Eldathyn Priest, Eldathyn Priestess, Lizard Man, Tough Lizard Man, Troll, Yuan-ti, Yuan-ti Elite, Yuan-ti Priest.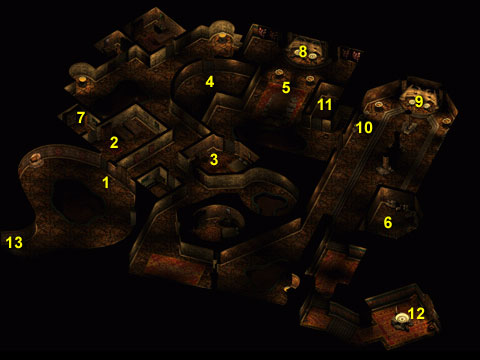 Areas of Interest
Walkthrough Index