Below you can find the patch, movies, the demo, wallpapers, ad images, chat logs, a scripting editor, a spell manager, unofficial enhancements and unofficial expansions/modifications for the Baldur's Gate II series. Many of the files at PlanetBaldursGate can also be accessed through the Baldur's Gate section at FilePlanet.
Note: Owners of Baldur's Gate II: The Collection DO NOT need any of the patches listed. The Collection has the patches applied.

Top 50 Files

For the most popular Baldur's Gate II files, check out the Top 50 List.

Baldur's Gate II Patch

BioWare has released a Baldur's Gate II patch, version 23037, which fixes many issues. Throne of Bhaal Patches

BioWare has released a patch, version 26498, for Baldur's Gate II: Throne of Bhaal to fix several issues. BioWare has released a Beta patch, version 26499, for Baldur's Gate II: Throne of Bhaal to fix save game load times.

Movies

Baldur's Gate II Demo

We have teamed up with Interplay and BioWare to bring the Baldur's Gate II demo to FilePlanet.The Baldur's Gate II demo covers chapter one of the game in which you must find a way out of your captor's prison. This demo uses a complete version of the game engine so you will be able to create your character, watch the movies, talk with non-player characters and fight. You can import your character and saved game into Baldur's Gate II if you decide to purchase the game. The demo does not have multiplayer enabled.

The demo is an amazing 640 MB, so it available as 7 seperate downloads. All 7 are required:

Wallpapers

BioWare made three wallpapers featuring a tomb, laboratory, and an Athkatlan temple, respectively. (released 2/17/00)
| | |
| --- | --- |
| | Constant Gaw made a wallpaper at 1024 x 768 and 1280 x 1024 resolutions based on Baldur's Gate II portraits. (400 kbB, released 9/28/00) |
| | Adam Miller developed a wallpaper at 1024 x 768 resolution of new and old portraits. (255 kB, released 8/7/00) |
| | Sanjay "Star-Fyre" Shanbhag has created a wallpaper at 1024 x 768 resolution based on initial screenshots from the game. (1.4 MB, released 11/15/99) |
| | Jerry "Ðï§g®üÑt£éd ê$K¡Mø" LeNeave has created a wallpaper at 1024 x 768 resolution. (292 kB, released 04/09/02) |
Ads
This large, two-page ad for Baldur's Gate II was scanned from the March issue of Computer Gaming World. (released 3/1/00)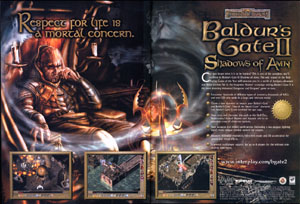 A second ad featuring Imoen. (released 6/21/00, submitted by
Josh
).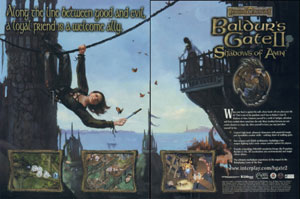 Chat Logs
The following are logs of the various official BG2 chats:
Scripting Editor
Brent Knowles, a designer on Baldur's Gate II, created a program called
ScriptW
to assist in writing scripts. It is not an unofficial release but should be useful for anyone trying to create scripts. More information can be found at
Brent's site
and in the
Readme
file. (263 kB, released 10/3/00)
Spell Manager
Galthariel and Khor Hammerblade have released a freeware
Spell Manager
for Shadows of Amn and Throne of Bhaal. This nifty utility was made to help you manage your known/scribed spells when you shop for additional spells. Microsoft Access 2000 or XP required. Read the readme file for full details.
David Gaider's Throne of Bhaal Unofficial Enhancements
David Gaider, the Senior Designer for Throne of Bhaal, has released some unofficial enhancements that were requested by fans. Even though he made these modifications, they are not official BioWare patches. They are not guaranteed to work and are not supported by BioWare in any way. In other words, try them at your
own risk
. If they don't work or break your game, don't bug BioWare or David about it.
The readme files (other than Ascension) are used with permission from Kevin Dorner of
Baldurdash
.
Huge thanks to David for putting these out for the fans. We appreciate it immensely.
Unofficial Expansions/Modifications
These files
ARE NOT
supported by Interplay, Black Isle Studios or BioWare in any way, shape or form. You should download and install them at your
own risk
.